We are almost 99% of the way around the sun, which we (and the planet) have been doing with such predictability for millions of years!
Salesforce is also doing something predictable, 3 times a year. I am talking about Salesforce's release cycle. And, it is time for Spring '19 release.  
Let's do some Q&A to learn about the release timelines and Sandbox impacts.
When is my Production org going to be  upgraded?
Though it is more important than the Sandbox upgrade date, chronologically this event happens later.
TLDR: The Spring '19 Release dates are Feb 8th / 9th. 
Regardless of your Sandbox migration, your production Org will be upgraded to the Spring '19 release during one of these dates.
What about my Sandboxes?
When ever we talk about a new release, we always need to know when our Sandboxes are going to be upgraded. Right? So we can properly plan and test and so on…
There are 2 important dates. 
Preview Instance Sandbox Migration Date : January 4th /5th.
What does this mean?
If you refresh any of your sandboxes located in the "Preview Instance" list before the 4th of January, that sandbox will be on the Spring '19 release. 
So, any sandbox in the instances listed in the preview list will be automatically moved to the Spring '19 release; NO ACTION needed.
If you refresh any of your sandboxes after 12:00 p.m. PT on January 4, 2019 they will continue to be in Winter'19 and will not participate in the 'Preview"
Non Preview Sandbox Migration Date : Feb 8th / 9th. 
Any sandbox in these instances will not participate in "Previews". These are serious sandboxes 🙂 They will get upgraded automatically either on Feb 8th or 9th after the Spring '19 release. 
Is there a diagram that shows me which instance is when?
This diagram gives you an idea of which is moving when.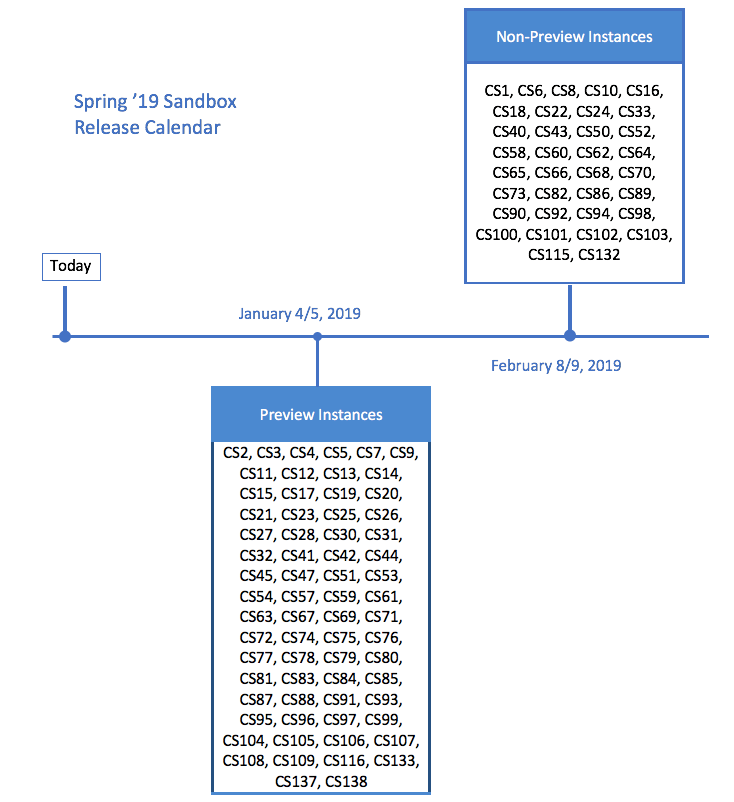 I'm a technical person, can I see some some code?
Here is the Pseudo Code… hope this help you, tech-head!
This is confusing, how to find out when is what for my specific Sandbox

?
Find out which instance is your sandbox hosted in:

Login to your Production Org, go to Setup > Sandbox.

Check out the column "Location" in the list view,




Now go to this site https://sandbox-preview.herokuapp.com/ and enter your location code. You will be shown what your options are.
Enjoy the Spring '19 Release of Salesforce! If you have any questions, please contact us.
What now?
Well, share this post and spread the joy!
As always, Keep Calm and Salesforce on!